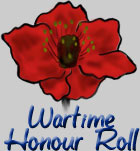 JOSEPH FREEMAN KING (LeROI)
Regimental # 862992
son of Frederick King (LeRoi) & Charlotte David
of Port Felix
he was born May 27th, 1890

served in World War I with the Princess Louise Fuseliers
On Aug 17, 1919 ,The Prince of Wales (Later Edward VII)
visited Halifax. There was a picture of
Joseph Freeman King showing the Prince his troop in the newspaper.

married Catherine Margaret "Cassie" George
on February 9, 1908 in
St. Joseph's Church in Halifax

They had three daughters; Mary, Charlotte and Bette

Joseph King died on May 8, 1957 in Rockingham, Halifax
and is buried in Gate of Heaven Cemetery, Lower Sackville.



National Archives of Canada
Soldiers of the First World War — Canadian Expeditionary Force


If you've arrived here from an outside link, and don't see a navigation bar to the left, and you wish to further visit the Families of TorBay Area Website, please click the logo